This week I am off to London to set up Ocean Of light (a squidsoup project) for the Kinetica Art fair. We has been developing this project for over a year and have been playing with this type of media (individually controlled LEDs in space) for over a couple of years.
So where does Ocean of Light come from? Through an experimental and playful approach to creating interactive digital installations, we often found ourselves exploring where real and virtual space coexist. We had explored this through multiuser activity and shared experience of audio and visual virtual space (altzero, ghosts), then entering physical space, perceptually through stereoscopy and physically with wearable proximity sensors (come closer) also using stereoscopic cameras to analyze physical movement to navigate virtual space (driftnet,freq2).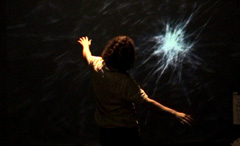 Each project led to their own discoveries but until we started working with LEDs in space it seemed like we were making experiences and environments that a user peers into through some kind of portal, or the screen space. Working with the Nova grid (Stealth, Discontinuum) certainly took a leap out of screen space and into the real world in a more determined way. However the close proximity of the LEDs still created a screen like situation as the viewer would be forced to view the work from an external proximity.
The Ocean of Light Grid is part of the evolution of this development process, Designed on the back of all this investigation and experimentation by squidsoup Ocean of Light should enable audio/visual environments to be experienced from within.
Surface is the first artwork to be exhibited using the Ocean of Light hardware. It uses minimal visuals and sound to evoke the essence of character and movement. Autonomous entities engage in a playful dance, negotiating the material properties of a fluid surface.