Pest Control, Glastonbury 2010 from squidsoup on Vimeo.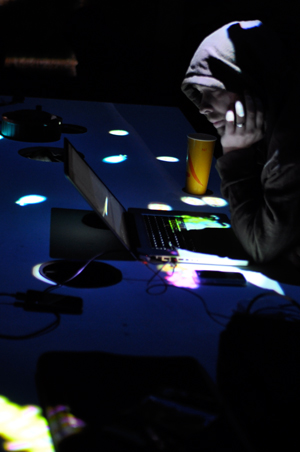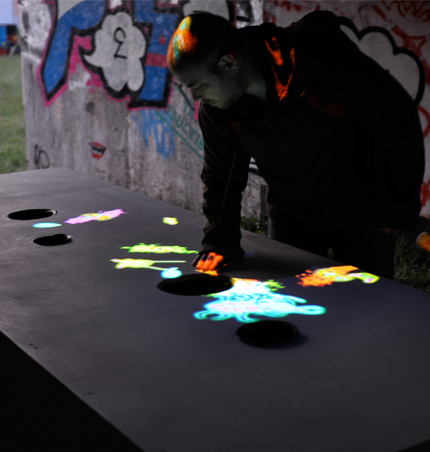 more Pest Control images on flickr
The interesting thing about Pest Control for Glastonbury was not so much the location, but the volumes of people for whom the project was created and how interactivity would be delivered in this situation. Not that programming while the sun rises with damp grass under my feet was not an interesting and new experience, but that was evidently the calm before the storm. Creating Interactive art for the individual or the few to interact with is the usual route we take when building for a gallery environment and most of our other pieces in "a glastonbury environment" would have most certainly been completely trashed. Pest Control is an adaptation or sequel of an earlier much more sensitive squidsoup piece called bugs, built to work in a space which is packed with bodies so subtle interaction is out the window. The situation demanded quick gratifying interaction, in someways not far off what you would supply in a arcade style computer game. Pest Control has probably become the most "Gamey" squidsoup work since Altzero 1 and I like that.However it's hard to see Pest Control working in a gallery situation which makes it difficult to quantify its relevance since most of our work is built to reside in the gallery space. Nonetheless I think we successfully managed to create a "touchable" virtual space in one of the most crowded open spaces we are ever likely to exhibit.
Pest Control used infrared camera detection and opentsps communicating with actionscript to control all the bugs in the alchemy version of box2d and despite all the lack of sleep and navigation around that massive glastonbury site was good fun to complete. The first part of the video was shot the morning of glastonbury starting at about 5 in the morning just after we finished.
Also adding to the uniqueness of the situation some awesome graffiti to show who we were.