Stealth Project, ISEA 2009 from squidsoup on Vimeo.
Stealth,a squidsoup project, created to be an interactive installation through the process of development evolved into a fully playable game set to an art gallery situation. It was first shown as part of Cybersonica late in 2008 at the start of Cold War Modern in V&A. The Cold War Modern Theme pretty much set the tone for Stealth. The concept emerged from associations with war game stereo types. Imagine James Bond in Never Say Never Again (the electro shock over the table video game).
Never Say Never Again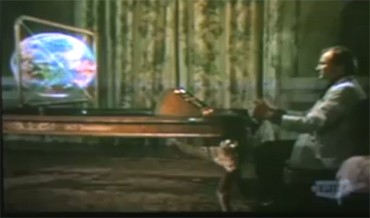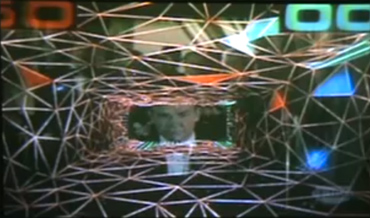 Stealth is connect four (board game) mixed with the classic missile defence( a retro video game ) set in real space. You aim to marking your position on the grid by firing missiles to the opposite side passing through a sweeping radar. Your opponent can shoot down your missiles and the resulting explosions can also detonate other missiles. It turned out to be quite absorbing after a few goes, The video above is to demonstrate it, in reality we were screaming at each other while playing it.
It was quite successful as a game, but in a limited way. The situation inhibits the playability. If you put that "game" in a white box room or gallery situation most viewers are still highly likely to assume a passive role rather than participant even when engaged with Stealth. The monome interfaces were actually perfect for the playability of the game, but not the most conventional form of interaction. Games being reasonably complex activities rely heavily on convention in controls and understanding of rules. Also there is an issue of time and practice. There is a lot to take in when playing a "missile defence, connect four, sculptural space, real time multiplayer shooting game" you need a bit of practice.
Game and Sculpture as exploration of space seems to form a good partnership. Sculptures occupy and define space and games tend to create or facilitate the navigation of space. Stealth ultimately is digital, the logic is digital, you play via an interface, the imagery may occupy 3D space, but ultimately it is digital. But because it looks very much like a sculpture it almost demands to be beheld rather than interacted. The kit itself becomes more intriguing that the digital work on it. Unlike cinema or digital projection where the technology is less centre stage due to existing familiarity.
What ever we made using the NOVA we would be restricted by its sculptural presence. Looking back, all the work we did with the NOVA 2008 – 2009 was in response to its physical presence and technical restrictions rather than it bending to our creative or artistic will and becoming a material used to create digital spaces.